Welcome
Welcome!
This website is all about HAM Radio or Radio Amateurs.
I obtained my license in 1982. After 12 years of absence (1998-2010) I am QRV again.
This website is in the English and the Dutch language.
Please follow PA2OLD on Twitter, search for
_Oldtimer_
See also my YouTube channel on:
PA2OLD
Registration:
Registration is possible for Dutch, German, English and Belgian amateurs, but only after verification by the webmaster.
Send an e-mail with your callsign, name and address and if you want, your date of birth to PA2OLD.
I hope you like my website.
Good DX and 73 from Ben - PA2OLD © 2011 - 2014.
| | | | | | | |
| --- | --- | --- | --- | --- | --- | --- |
| UTC/GMT | | Amsterdam | | New York | | Moscow |
New / Update Articles:
D M R: Chinese Radios: Various: Ham "Live" TV Shows: Archive:
News:
New in forums :
Live Stream:
Live Stream from the shack PA2OLD
Uitzendschema:
Woensdag 5 maart: De 20ste AM-Ronde regio Arnhem 21.00 uur tot 22.00 uur. Meld u aan voor de nieuwsbrief.
Donderdag 6 maart: PI4ANH 21.00 uur tot ± 22.00 uur.
Zondag 9 maart: Doetinchemse Koffieronde 11.00 uur tot 12.00 uur
Donderdag 13 maart: PI4ANH 21.00 uur tot ± 22.00 uur.
Zondag 16 maart: Doetinchemse Koffieronde 11.00 uur tot 12.00 uur
(Alle uitzending onder voorbehoud.)
Heeft u last van reclame tijdens de Live Stream?
Installeer dan Adblock Plus, een Add-on voor Firefox maar ook verkrijgbaar voor de internet Explorer, Chrome en Opera browsers.
Na de installatie is de reclame verdwenen en dat niet alleen in de Live Stream maar ook op andere web-pagina's.
Articles / Events:
= Hot Topic or New Article color
SPECIALS
Artikelen over de AM-Ronde en Amplitude Modulatie projecten.

HAM "LIVE" TV SHOWS
Ham Nation
Ham TV show
AmateurLogic TV
Radio amateur TV show

TX Factor


TX Factor is a brand new series of high definition TV shows covering all aspects of the hobby which is amateur radio
INTERFERENCE
The Worldwide threat of the PLC.
Is the HF band dead within 5 years?
PLC: Power line communication
PLC is also called as BPL.
BPL: Broadband over Power Lines.

ANTENNAS
D M R
Polmar DB-50M / Powerwerx DB-750X
AT-588U or V and AT-588UV
BAOFENG
MORE CHINESE RADIOS
4 METER BAND
New 4/6 meter SSB Tranceiver
Noble Radio NR-6N4 - 4 and 6 meter band radio
The 4 meter band in the Netherlands
Available for all Full Class Dutch radio amateurs


U P D A T E S :




1.

February 7 2012 YouTube videos and info about the new 70 MHz Radios


2.

Februari 8 2012 More Hyperlinks and Info


3.

Februari 9 2012 Motorola GM350 Manuals


4.

Februari 10 2012 Homemade 70 MHz Antennas


5.

Februari 16 2012 Difference between J-Pole Calulators
HB9CV by PA1RIK
Fine 1 Watt QRP connection to Slovenia on the 4 meter band
HAM NEWS
HAM TECH
HAM INFO
PROJECTS
VARIOUS
AUDIO
PHOTO/VIDEO
ARCHIVE
EVENTS
Propagation:

Explanation Propagation see:
Index-numbers (PDF)
Advertentie:
JvG
Communications

Dit bedrijf heeft al meer dan 25 jaar ervaring met Ham apparatuur.

Yaesu Kenwood Alinco Daiwa Diamond Falcon Alan Sirio LDG Midland Maas K-PO
HF Propagation:
WEATHER:
Lightning Radar:
Europe:
Source:
www.buienradar.nl
Heavy Weather warning: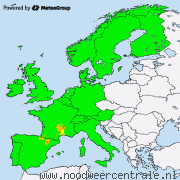 Noodweercentrale
(klik)
MOST Recommended Links:
Blog of KC5HWB (also Chinese radios)
Famous for his Antenna and ATU pages.
Co-manage: HAM-DMR.nl.
Dutch DMR website
Excellent Radio Kits site from Javier Solans EA2GCY, with more high standard kits.

This website is in the Dutch language

Home of the Polmar DB-50M 70cm/2m radio
Weather Station Arnhem

This website is in the Dutch language
QRZ.COM Callsign check:

T O O L S:
Ham Tools and Information
ARNHEM AWARD:
Info:
Veron afdeling Arnhem
DUTCH NEWS:
Recent additions :
P A 2 O L D:

PA2OLD Radio Amateur
Licensed since 1982.
QRV on HF on the 80, 40, 20, 17, 15, 12 and 10 meter bands, 6, 4 and 2 meter and the 70 cm band.
WEB BROWSER:
Attention:
This website has been optimized for use with F i r e F o x. Using different webbrowsers may result in a different and possibly erroneous display of the pages.

English:
I maintain this website partly in English. Please bear in mind that English is not my native language, so mistakes are inevitable.

Deze website is geoptimaliseerd voor
F i r e F o x. Met een andere browser kan de website-weergave afwijken!
Online :